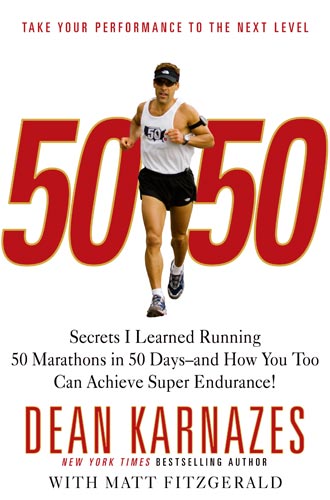 I just finished reading my latest running book, 50/50 by Dean Karnazes. I ended up buying the book on Boxing Day when I went out to look for  new book to read.
If you are not familiar with the boo, as I was before I picked it up, the book chronicles the Endurance 50 in which Karnazes ran 50 marathons in 50 states in 50 days. Some of the marathons are live events while others are re-created marathons. The way the book is setup with a small section on each location makes it a quick read.
What drew me most to the book was the travel aspect of the book thinking it might give ideas as to where I might want to travel in the future. I was also particularly interested to read what he had to say about the Philadelphia Marathon since I completed the event less than two months ago.
However, the book does not focus so much on the locations as it does on the interaction between Karnazes and his crew, his family and the other runners. The focus on the other runners who joined him in various stops was one of the more interesting aspects of the book for me. I was certainly surprised at the number of first time marathoners who joined him.
Karnazes also provides a series of tips to help runners recover, adapt to difficult conditions, stay motivated and to improve their nutrition. Some were ones I was already familiar with that were reinforced when I read about them another time (ie. importance of cross training and the importance of sleep) while others were new for me and I plan to introduce them into my training (ie. improving my core strength, trying to cut down on my sugar intake).
While I enjoyed the book I think my wife was pleased to hear that I still have no interest in attempting an ultramarathon. The marathon distance is still enough of a challenge for me.
If you are looking for a quick read about running or if you want to read about the impressive adventure that was the Endurance 50 this book is worth a read.