With the temperature sitting at -28 C with the windchill today, -18 F, I thought of looking for a warm weather marathon to profile tonight. I came up with the Bermuda Marathon which takes place on the 15th.
The Bermuda Marathon takes place in Hamilton with the marathon consisting of two laps of the half=marathon course. As you can see from this map Bermuda is not a long trip from the Eastern United States or Canada.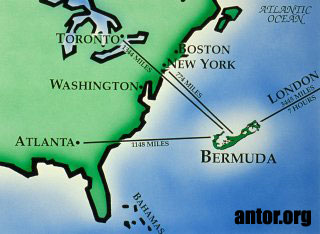 If you want to add a little excitement in Bermuda you can also sign up for the Bermuda Triangle Challenge and earn an extra medal by completing the mile on Friday, the 10 km on Saturday and the Marathon on Sunday.
On a day like today with the weather like it is this certainly looks appealing…
As always, if you want more information on this race you can read some race reviews here. 
Is the Bermuda Marathon one you could see yourself doing? Would you signup for the Bermuda Traingle Challenge if you went?